Beat Finals Week: Lower Your Stress with Exercise
Submitted by
osutulsa
on Tue, 05/01/2018 - 12:51pm
For any college student, the end of the semester can mean only one thing: 'Test Stress.'
Throw your stress to the curb by introducing some physical activity into your life. Here are my top three reasons why students should be physically active - especially during finals.
1. Gives You More Endorphins 
Endorphins are often referred to as the brain's "feel-good" chemicals. These morphine-like chemicals are produced by the body and are suggested to create a positive shift in mood1. You probably have heard someone gush about hitting their 'runner's high' at some point during their run. Those are the powerful endorphins being produced by the body! The take-away? Exercising can reduce your stress level by pumping up the 'feel-good' chemicals in your body.

2. Retain More Information
We've all been there. You stayed up three nights in a row memorizing all of your notes, PowerPoints and chapter outlines. Once the test is on the desk in front of you, it seems your brain went through an automatic reboot process the night before. Uh oh…you can't remember anything! Have no fear because being physically active can help out with that. A meta-analysis published in 2014 found that physical activity has a positive correlation with your ability to retain new information3. Take a 20-minute walk before you sit down to study. If you're more into a bro-workout, take small breaks during your study sessions to perform sets of pushups or sit-ups. The take-away here? You can turn a little daily activity into a lot more memory.
3. Increases Your Self-Esteem
Good vibes and smarts might not be enough for some students. Sometimes all we need going into Finals Week is some self-esteem. Research published in 2016 observed that participants who were physically active reported having higher levels of self-esteem when compared to non-physically active participants4. Spending 20-30 minutes each day being physically active will have you walking out of your final like…
The take-away is that a little cardio can lead to a lot of confidence.
Do you need a place to be physically active? You're in luck! The OSU-Tulsa Wellness Center is open Monday through Saturday to help you with your wellness journey. Come see us in North Hall 116. Healthy students are happy students. It's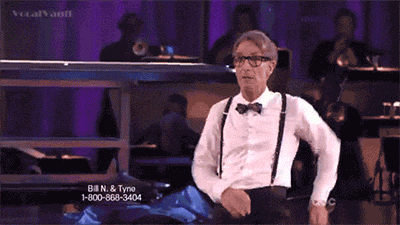 References:
Newman, Jenny. "Relationships Among Level of Physical Activity, Exercise Intensity, Mood, and Beta-Endorphins." (2015).
www.mayoclinic.org
Khan, Naiman A., and Charles H. Hillman. "The relation of childhood physical activity and aerobic fitness to brain function and cognition: a review." Pediatric exercise science 26.2 (2014): 138-146.
Sani, Seyed Hojjat Zamani, et al. "Physical activity and self-esteem: testing direct and indirect relationships associated with psychological and physical mechanisms." Neuropsychiatric disease and treatment 12 (2016): 2617.